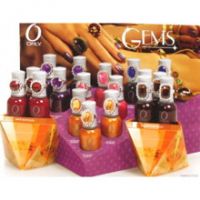 Orly Gem Collection
As low as
Gem of a find!

This entire collection is GORGEOUS! My fave color is the Golden Maharaja which reminds me a little bit of root beer, the shade is pretty dynamic! Sea Of The Light is my second fave color, it's a gorgeous pink that's not too fuschia and doesn't take on coral. They all have some shimmer except for the Mandalay Ruby which is a dark red, but still gorgeous. The length of wear you get with Orly is long, I love their polishes! I'm in the middle of reviewing this collection for my site.

I love Sea of the Light!

this nail polish goes on well, stays well with a topcoat-- and the colors in this collection are truly gem worthy. Sea of the Light is my favorite; a pretty, slightly shimmery, light deflecting medium pink.

Back
to top