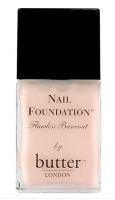 TERRIBLE

I had very high hopes for this base coat after everyone I know was raving about this. Let me start with the things I did like. First off, I like the nude color of this, so even if you don't plan on painting your nails with color, this is a good color to use to get that even sheer nude look for a clean manicure. Secondly, I think this did fill in ridges for a smoother look, even after buffing your ...read morenails. Third, polish does seem to go on smoother, and it seems I need only two coats of a color, rather than three coats like I normally need with most polishes. Fourth, I did feel that it lived up to its word of covering imperfections like peeling nails. Other than that, it's not a very good base coat for me. Within HOURS of painting my nails, the tips were already chipping off. At least with my other base coats, I could get through a whole day or two without my edges looking worn and rough! I even had quick edge chipping on my nails that I usually barely see any chipping after several days. Look, I KNOW how to do my nails, so there's no excuse as to why this should be chipping so quickly, other than it being a poor product. This did help seal peeling nails, but since this base coat caused my polish to chip so easily, the peeling nails were quickly exposed which defeats the purpose. I'm sure that this base coat would work better on other Butter polish colors, but let's get real. How many of us actually have 14+ dollars to buy ONE shade, let alone the entire line! Most of us have nail polishes of other brands. I'm not afraid to splurge on big-name polishes. I tried this with Essie, OPI, China Glaze, Zoya, etc. and this base coat didn't work as well as my usual base coat. I need a base coat that is going to work with ALL of my polishes, not just its own brand. Therefore, I'm going to return this. I feel very disappointed. It's 18 at Ulta and you do get a lot for the price you pay, but honestly, you can find a better base coat that works well for most brands for half of the price.

Great product

This is a perfect base coat. Fills in the ridges that I have from acrylic nails. Makes nails look smooth and ready for regular polish. Dries fast. The container is great too. It's a little bit on the pricey side for a base coat.

Perfect base

Goes on smoothly, but provides "grip" for color. Has soft pink cast and can be used with clear top-coat for a natural look. Prolongs manicures.

Back
to top