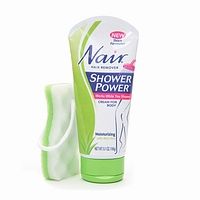 So Cool

I am absolutely thrilled. I am disabled and cannot use razors so this time of year is a bit embarrassing for me usually because the hair on my legs is dark and thick. It is July and I can now wear shorts and short skirts because this stuff really works! Although the smell is a bit icky and you have to wash it off with fragranced body wash as well as use a good smelling lotion afterward, it really...read more really works. It is so cool! To get the area completely smooth and all the hair off, I recommend keeping a timer handy and keeping the cream on for six minutes. You won't need razors anymore!

Do no recommend even to my worst enemy

Worst product ever! I had a c-section scar almost 5yrs old I had this cream on for no longer than 5minutes because it burnt so bad, as I was washing it off in the shower I noticed I was bleeding! I have had no problem with any other product!

21 Best Soaps

Exclusively from the editors at Total Beauty

Get the Buying Guide to see these top-rated products!

Get it now »

As good as a professional wax

For those of you used to going to the salons and getting your waxing on but have fell on hard times recently like me, you need to try this product. Works amazingly well for a lotion but you probably have to use more than one container for your legs, so I would say two for your legs and one for underarms. That's all I wax by myself though, I cannot skimp on a professional bikini wax though, shaving causes ingrown hairs.

Back
to top