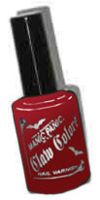 Manic Panic Claw Colors Flat Nail Polish
As low as
Manic Panic Claw Colors Flat Nail Polish

I always wonderd why no one ever made a matte nail color, then I found Manic Panic. I love the finish and the red is just spectacular. It wears really well, it doesn't stain my nails. I have even used a glossy top coat over it and it really looks nice glossy as well, it had a nice depth of color. It's funny how everyone is on the matte nail color band wagon now, Manic Panic are truly pioneers!

Matte Polish

I wasn't too sure about a matte polish at first, but when I painted my each nail a different color from the testers at the store I was at, I realized the color seem so much brighter and more pronounced without the sheen. But, if you must have it shiny, they also make a really nice top coat.

Back
to top