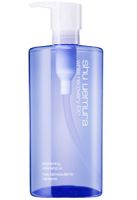 Awesome makeup remover, but may clog pores

I bought this cleansing oil after seeing a skin care video done on the Pixiwoo YouTube channel (wonderful makeup tutorials!!). The skincare expert they had raved about the Shu Uemura cleansing oils as a great makeup remover and an all-in-one product. At this time, cleansing oils were not all over the place like they are now. I was suspicious of putting an oil on my face at first, but this stuff...read more really is amazing. Massage this all over your dry skin (even your eyes!), mix in a small amount of warm water to create a milky cleanser, then rinse off. This leaves your skin free of makeup without that tight, stripped feeling. It is so gentle and makes your skin feel really soft. I am convinced that a cleansing oil should be the first step in any makeup-wearing woman's skin care regime. If you have problem skin, or large pores, I would say that you should follow up with a more deep cleaning cleanser after this cleansing oil. It will work so much better because your skin will be free of all your makeup. The issue I have with this is one of the top ingredients in it, rates high on the comedogenic scale, meaning it could clog your pores. This has never made me break out, but I have always had blackheads on my nose and cheek area and I would hate if this product was preventing me from getting rid of that. Now that there are so many other oil cleansers on the market, I will be trying those that don't have the same potentially pore-clogging ingredients in them. I bought the large bottle of the cleansing oil and it has lasted me ages. This is an expensive product but I think it works wonderfully at gently removing makeup.

Love this product!!

I've been using this for a week, and I can already see a visible difference in the texture of my skin. After using makeup wipes for so long, I recently learned that wipes tend to dry out your skin which cause major wrinkles. You have to thoroughly rub this oil into your skin with water to emulsify it, it will dissolve the makeup very well. I did not give this product a perfect rating because t...read morehe makeup around my eyes, (concealer) took a bit longer to take off. Overall, a great investment!

LOOOVE

I love this cleansing oil, it smells great, removes make up and definitely brightens my complexion!

Back
to top