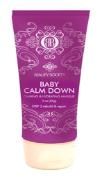 Beauty Society Baby Calm Down Calming & Hydrating Masque
As low as
Did you pick at it making it worse!?

Ever pick or scratch at the very thing you know you shouldn't but cant resist. Now your left with it bigger and badder then before. And tomorrow it will be even worse? BABY CALM DOWN is the only thing that I turn to. Amazing! Put it on before bed and rinse off in the morning. Or a quick 15min prep before your makeup. You will notice right away!

Sun Burns Beware

If you or your little ones get a bit too much sun, lather this stuff on and sit back. It's a lifesaver....

ultra-soothing gel mask- a must have in your beauty regime!

This product is crazy good! Great for after being out in the sun or cold weather- great as an under eye treatment and always makes my skin feel plump and fresh and hydrated!

Back
to top