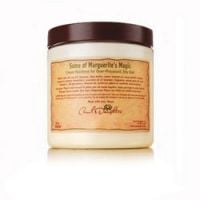 Carol's Daughter Some of Marguerite's Magic
As low as
Don't know how I lived without it

I use this for everything-on my roots and ends when I blowdry, roller set, wrap at night-everything. Because I have a relaxer, I need to keep my edges and my roots nice and moisturized and this definitely does the trick. You only need a little so one jar goes a long way, and I love the way it smells.

My new go-to hair creme

I used to use Pantene Pro V Daily Oil Moisturizing Creme for Women of Color, but for some reason, all of a sudden after using it for 3 or 4 years, it stopped moisturizing my hair like it did in the beginning. I hadn't changed birth control or vitamins or anything, it just started not being very effective on my hair. So I decided to try Some of Margeurite's Magic, and I was blown away! It moisturiz...read morees without being heavy, makes my hair beautifully shiny, reduced itching and dandruff, and doesn't take very much product at all. It is my new daily "go-to" hair moisturizer; I use it when I wrap my hair at night, on my scalp, and before I use heat. Although I have relaxed hair, I even use it on my daughter's natural hair. It works wonders!

Back
to top