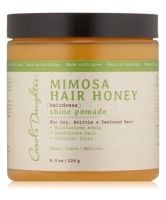 GOOD STUFF!!

Since it's wintertime my dry hair is even thirstier for moisture and this is the answer!! It is great for dry scalp relief plus it will make your hair soft and manageable. Also, this smells absolutely wonderful!! The only reason I won't give this product a 10 is because it's very heavy...so it may give you the helmet hair look which is not good at all. This clearly is not for every day use just fo...read morer when your hair is beyond dry...therefore, if your hair is a fine texture I advise you to STAY AWAY from this one!!

Good but wish it were cheaper

I have terribly dry scalp and stopped 'greasing' it because it made my hair too oily and nasty. Now my hair is healthy but my scalp is not, so my mother gave me this. I like that it's mineral oil/petroleum-free, and it works great on my scalp. I find it a bit heavy for my hair, so I only use it around the edges when my hair is pulled back. I also wish it were a bit cheaper.

Great for my scalp and fly-away ends

I use this daily to "grease" my scalp & for my ends. It smells great. My hair has looked so much healthier (even with a "super" ly-relaxer) then it has in a long time. **Disclaimer: I have been reading comments about other races using Carol's Daughter (Hair) Products and they complain. Basically these products are for African-American/bi-racial women so no wonder your not getting the results you need. Just wanted to put that out there!

Back
to top