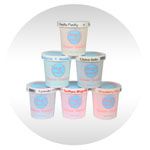 ME! Bath Shower Sherbet
As low as
ME! Loves This Sherbet

I first tried wonderful ME! Bath Shower Sherbet when I was reviewing for another site several years ago. They look and smell so very good that you don't know whether you should use them or consumer them! They are a bit pricey, but you get a good amount ($30.00 for sixteen ounces). There is a variety of fragrances, including "Gotta Have It Pomegranate," "Lavender Lullaby," "Strawberry Kiwi," and...read more "Summer Rain." These are sugar-based body scrubs which exfoliate, cleanse, moisturize, and rejuvenate your skin and your spirits! Jojoba oil and Vitamin E help to make this a totally exhilarating and body-nourishing experience.

Pure Bliss! You will glow!

This stuff has it all, delicious packaging so cute it looks like it came from an ice cream shop, great scents and skin loving benefits. One of the greatest things about this that makes it so different from others is the many different sizes of exfoliant grains. The price isn't bad considering there is 16 ounces of delectable goodness that will not only leave you baby butt soft and glowing everywhere but also, the scent sticks around, softly.

Back
to top