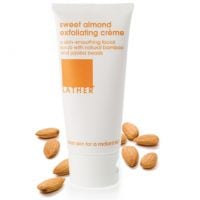 Lather Sweet Almond Exfoliating Creme
As low as
Editor's Rating & Review
Lather Sweet Almond Exfoliating Creme smells like a baked goodie (thanks to the almond oil) and feels almost dough-like on skin. Bamboo and jojoba beads are sparsely spaced, so the exfoliation is gentle -- perfect for sensitive skin. The thick cream, which contains kaolin clay and rosehip oil, can leave a little residue so try using a gentle cleanser after rinsing. The major downside is the price; for a cheaper yet effective product, try <a href="/reviews/product/575971" target="new">St. Ives Apricot Scrub</a> for sensitive skin.
Reviewed by Sarah on 07/11/2008

How we review products
Sweet creme

Left my skin soft and smooth. A little on the pricey side though. Would recommend to friends.

It's amazing.

It smells great, it works even better. I wash my face lightly afterwards, but it's no bother for me. Perhaps if you don't have enough time in your day to take the extra time cleansing afterwards, this isn't the product for you, but I have a lot of free time on my hands and I don't mind taking the time to make my face look great. Love it.

Back
to top