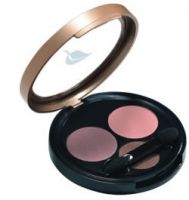 easy eyeshadow

this is the easiest eyeshadow ever! it has the crease and lid labeled AND it brings a really important shade --- the highlighter!!!! if you use this, your eyes will surely pop. the highlighter shade is awesome because you can use it on other sides of your face. it lasts all day, but the color can fade if you dont use a primer (just like any other shadow). this is a great investment.

Excellent Product - Especially for the $$$

I was very impressed with the consistency and the pigment in these shadows. Also, the color combinations are excellent adn because they tell you what each shade is for, its pretty "idiot" proof. My favorite trios are the stone and mountain trios, which are great every day neutrals for about any skin tone.

Rich pigmented colors....

I love the colors in these little guys! They're richly pigmented yet subtle and very complimentary. Worth every penny and given that you have "labels" which take the guess work out of where each color is supposed to be applied is great! I love trying new products and I can't wait to try all the palette colors! Way to go Sally Hansen & Carmindy!

Back
to top