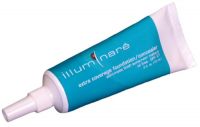 Illuminare Extra Coverage Foundation Concealer
As low as
Illuminare

This little tube lives up to its claim. I wear this everyday.

Love this Foundation

I am not an overall fan of mineral makeups. They just always look cakey on my skin. But I love this stuff. It is both good for skin and gives great coverage. I have found that using a primer is key. Looks very natural. I will be using this for a long time.

Love this!

I am limited on foundation choices due to taking Guaifenesin for my Fibromyalgia, and this one rocks! I would use it no matter what. You can adjust your coverage from light/medium to fairly heavy, and it covers blemishes really well. Love the spf, and the fact that it isn't drying. I use a mineral powder to set it and it looks incredible and wears well. Definetely worth the price, and, it lasts a long time because you don't use much, so it ends up being a good buy, in my opinion.