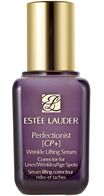 Good and Bad

I love the feeling of this product ! My skin looks very smooth and perfect ! It made my skin look flawless because it gave me an incredible even skin tone complexion! But unfortunately, i did not see no wrinkles disappear.

Love this

I absolutely love this product! I have been using this for years (in it's previous versions) and cannot go a day without it. The skin plumps and lines vanish the moment it touches my skin. I'm 48 and people constantly guess that I'm at least 10 years younger. Best of all this has kept those little lines around the lips at bay. Love love love.

My eye cream and so much more

I know Estée Lauder came out wit a new version of this product but I still use this one -purchased on ebay . I use it as a eye cream. I have some fine lines around my eyes , between my eyes and around my mouth -they are expression lines. I use this twice a day and my skin looks smoother . I have a big bottle and it lasts forever. I heard that the new formula is thicker and also contains lots of perfume . I wished they didn't change it if it's so.

Back
to top