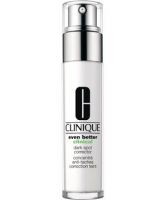 Irritated My Skin!

I have a smattering of brown spots on one cheek and one hand. I was looking for a product without Hydroquinone to safely remove these discolorations. Not only did they remain when I used this, but my skin was red, raw, and irritated. It took me over a week for it to get back in shape.

Complete and total waste of money.

If it were possible for me to give this busted product less than one star, I would do so. While I like Clinique's makeup selections, I have never had even a bit of success with their skin care products. However, because I have sensitive skin and freckles, I am always on the look out for a gentle product that will help them fade away. I thought that this product was pretty expensive, but I am alway...read mores willing to pay for good results, so I gave it a try. I used it every evening after washing my face with a gentle cleanser and using a toner. Unfortunately for me and my face, I did not receive a good result from this product. It made the skin that I applied the cream to get redder and develop little bumps. The skin became more delicate, and it itched and burned like crazy. Worst of all, to add insult to injury, was that it did not fade a single freckle even the slightest amount. What a terrible waste of time and money. I had to discontinue use of this product and use many soothing moisturizers and healing products just to get it back to the condition it was in before I made the mistake of using this product. I hope that any lady who reads this will take the opportunity to learn from my bad experience and mistake and pass on this product. It will take your money, leave your freckles, and damage and irritate your skin. I would not recommend this product to my very worst enemy, and I can't believe that I was foolish enough to try it on myself. I would estimate that I used this product for two months of continuous use without seeing any hint of a good result, and then it took me two additional months of healing my skin to get it back to where it was before I used this on my face. Don't do it!

good

I use the moisturizer version of this, it's nice and thick and so moisturizing, it doesn't cause me to break out and my skin doesn't show any skins of winter dryness. Love it.

Back
to top