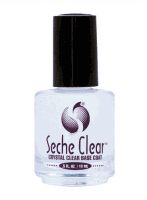 Long-Lasting, Non-Yellowing Base

Seche Clear™ Crystal Clear Base Coat took ten years to formulate (the company actually owns the "China Glaze" line). Use as a glossy clear polish for a nice, long-lasting shine. It was specifically created to bond with natural nails without turning yellow. Under other nail colors, it prohibits nails from picking up the pigment. It works exactly as it promises and is an excellent, reliable base.

Don't know why this didn't rate better than the top coat....

I actually prefer this over the Seche Vite top coat since it's easier to apply in thin coats and didn't get as goopy. This dries super fast and prevents my nails from yellowing as it states. I don't know how base coats are really suppose to work since it's underneath the polish and it's hard to tell how it performs but I love the shiny finish on this when used alone. This base coat lived up to all...read more my expectations because it dried super fast and I don't have the patience to wait for my nails to dry.

Decent, overpriced

This is a decent base coat. You can wear it alone and get a nice shine on your nails, or you can use it as a regular base coat and apply it prior to your select nail color(s). It extends the manicure life to about a week, but I find that it doesn't prevent chipping when used without a top coat. It also doesn't prevent staining, especially against bright colors and blues.

Back
to top