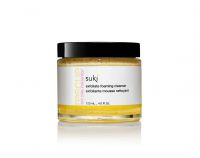 Suki--A "Secret" to Sensational Skin!

The importance of exfoliation cannot be understated. Even the most sensitive, fragile skins should undergo the process twice a week. According to some dermatologists, many men age more attractively than women simply because they exfoliate daily--with a razor blade as they shave! Exfoliation is crucial to remove the upper, dead layer of skin cells on your face. It helps to deep-clean and can dis...read morelodge blackheads and whiteheads without damaging delicate skin. When done moderately and well, it improves circulation and leaves your complexion looking and feeling smoother, finer, and clearer. Products used to moisturize and prevent aging penetrate more effectively when skin is renewed and old cells are washed away. Unfortunately, some exfoliating agents can be unduly harsh. Ingredients such as ground nut shells--if not small or blunt enough--can cause minute tears in the skin, creating irritation. skin damage, and places for bacteria to hibernate. Too many acids in a product will sting and burn; you need one which will comfort while it cleanses and renews. That's why I love Suki's "Exfoliate Cleanser." It is all-natural and replete with beneficial, delightful ingredients such as Sugar, Organic Coconut Oil, Rice Flour, Chamomile, Lavender, Lemongrass, Orange Peel, and Seaweed (Algae) Extracts. When you dip into the tub, you'll find it a bit grainy to begin with, but the scent--oh, the scent! It is a luscious sweet citrus smell, so good that I'm tempted to consume it rather than wash with it! It then disperses into an ultra-foamy lather. I tend to get carried away with the bubbles and have to stop myself from using it for too long. It rinses thoroughly--no annoying particles are left around the eyes or crevices of the nose. Skin is velvety-like and has a younger look. My beauty secret? I exfoliate my hands as often as I do my face. It keeps them youthful and more receptive to the creams I use during the day and night.

Great cleanser!

Pricey, but works really well

My new best friend

This cleanser is high-tech and natural... super genius. It starts out like a pretty grainy scrub, that you work between your hands, which it then melts into a foamy lather, that rinses clean.

Back
to top