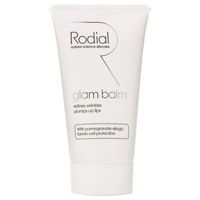 Rodial Glam Balm
As low as
all purpose star

I love Rodial Glam Balm. It works well to help condition and moistuize skin. I also use it most often as a treatment for skin irritations. I have VERY sensitive skin. Whenever I have a flare-up or a bad reaction to something this balm instantly soothes it. What's more it also helps to repair whatever damage is done by whatever the irritant is. A very good deal for the price. It's a great multi-tas...read moreker and alot of times you don't have to use very much to get the desired results. It also is very good at nourishing and fighting fine lines and wrinkles. This is a great product.

Single Greatest Product EVER!!!

I'm and esthetician in Atlanta, Ga. My spa just started carrying Rodial and I have already sold us out of the Glam Balm twice! The smooth texture helps to plump and moisturize eyes and lips. I personally use it as an overnight mask and I feel smooth and hydrated in the morning. We actually have a brochure from Rodial explaining the 100 uses of Glam Balm. I recomend it to all of my clients dry to oily, young and old, sensitive. Everyone.

Back
to top