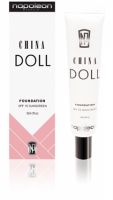 I looked twice....at the price!

I saw this in Ulta and I had to look twice at the price. I immediately put it back and walked away. Seems way too pricey for such a small amount.

Napoleon Perdis China Doll Foundation

I love this foundation, it's absolutely amazing. I have dry skin and it doesn't make me look cakey or orange. What I love about it is you don't have to use a powder to set it if you don't want to because it sets itself. It blends well, easy to apply, I recommend a blending brush. This sets fast so you have to work with it right away. It's lasts all day, not a need to reapply, and sets matte. I ha...read moreve sensitive skin, and this foundation doesn't give me acne. It makes you look years younger, I've had so many compliments when I have this foundation on, and other Napoleon foundations. A little goes a long way, which is good because it's on the higher end of the price spectrum. Its lightweight on the skin and leaves full coverage. If you have blemishes or acne, it covers very well. It has not creased on me. Great for photos and filming. You will have such a flawless look. Theres antioxidants, vitamins in it and it's Paba free.

The best foundation ever

Wish I would have discovered it sooner, fair combo skin, keeps skin clear ,air brushed look,flawless,the best ever,all others made skin break out. Pricey,yes but don't knock it till u try it, definetly worth it,met the rep at UltA .