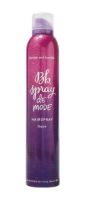 Flexible hold

I love using the Spray de Mode after I heat style my hair. When I add messy waves or do soft curls, this is the hairspray I like best. It is super light so it doesn't weigh down my hair or my style. It doesn't make my hair sticky at all, but instead it remains very movable. Often times light hold hairsprays don't seem to hold curls in my thin, naturally straight hair. But I feel like this act...read moreually makes my style last through the entire day, without any stiffness. You retain all the movement you want, without sacrificing your style. This smells a bit strong when you first spray it, but I think it smells good. The smell also fades pretty quickly so you aren't stuck with the fragrance all day. This is a pricey hairspray but it is a really unique product, unlike any other kind of hairspray I own or have tried. The large bottle is huge so it lasts forever. They also sell a travel size of this and that has even lasted quite a while. This is an aerosol hairspray, but the nozzle has never clogged like some others tend to do (a couple of my Paul Mitchell hairsprays do this). Reviewers who say this doesn't do anything are probably looking for a more traditional, firm holding hairspray. This just isn't that kind of product. Instead, it gives your hair a memory. Paul Mitchell Extra Body Firm Finishing Spray or Bumble and Bumble Classic Hairspray would give that more traditional, firm holding style.

Nice product

I like the spray but it is a little sticker than I am use to using.

de mode works

I hate the packaging though. It just says "blue blood" to me, we need to remember that time in history and what purple represents. Back to the product quality, I like it but I don't understand people who ONLY use bumble and bumble products. There are plenty of comprable guys on the market.

Back
to top