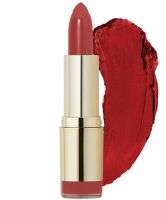 Pretty good

These lipsticks are really good for the price. They're smooth and moist. Unfortunately, they slide right off as time goes by. This seems to be a running theme for Milani products to me; they glide right on, and glide right off when you don't want them to.

Best Red 07

I love the matte, very hard to find true red shades. I love this, especially for the price!

Creamy super-sophisticated lipstick

I love love love this lipstick line and am heartbroken because I think Milani is discontinuing it. As the name implies, this is a matte finish lipstick, which is pretty rare. I think most women instinctively avoid matte lipcolors, thinking the more shine and shimmer, the better. I first tried the Cream Pie on a whim, during a period when I was obsessed with brown and neutral lipsticks. I was t...read moreotally surprised by how flattering it was. I actually think it makes my lips look fuller than glossy lipsticks. My lips look kind of cushiony, with the lack of shine allowing the natural texture of my lips to be visible through the lipstick. It's very creamy and comfortable to wear, and always makes me feel just a little more grown-up and sophisticated. Cream Pie is the perfect brown, with just enough pink in it flatter and not wash out your skin. Do the Mango (a hot yellow-toned brick red) and Moon Over Paradise (a mod pale pink) are also beautiful colors.

Back
to top