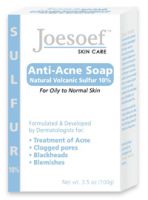 Wonderful!

Highly recommend!

Love Love this!

I have been using this soap on my face for my adult acne pretty regularly now. I haven't seen my face this clear in a long time! It really works and I use it everyday without seeing dryness. My doctor started carrying it in his office which makes it easy for me to pick up. He told me that since it is an anti-bacterial and anti-septic soap that It is good to use in the shower too like after I w...read moreorkout!! I do recommend this soap for people who need an everyday go-to product for acne and skin cleansing!!

Sulfur Soap - Joesoef Skin Care Sulfur Soap acne treatment

My Dermatologists recommended Sulfur Soap for Acne. I use Joesoef Skin Care Sulfur Soap 10%. This Sulfur Soap is effective and works !!!. Only $9 online. I hope this helps someone searching for cheap solutions.

Back
to top