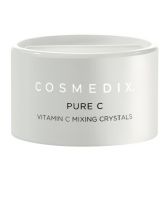 CosMedix Pure C
As low as
Great for clarifying and brightening

This product does what it says. It helps fade discolorations very quickly, and it really clarified my skin to flawlessness( which I never had before because of constant battles with acne). Like the other reviewer mentioned, be careful with the amount you mix in. It is an acid, and it will BURN if you put too much which can be challenging to gage. I gave it a lower rating, because it is silly to charge so much for such a small amount of L-ascorbic acid.

I Have Mixed Feelings

I did buy this product and because it is a powder and you mix it with one of their cream or liquid products, you really need to be extra careful not to put too much powder in with the cream. I did and just about burned my face! So, start off very small and work your way up til your face gets used to it because it is more powerful than most creams or serums.

Back
to top