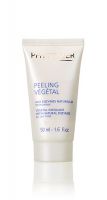 Nice peel

I've been using this peel on and off for about three years. I always seem to go back to it because it is gentle, yet effective, and leaves my skin feeling like silk.

Fresh and gentle

I exfoliate weekly but every two weeks I like to use peeling vegetal. It only stays on for 5 minutes and eats away that rough surface. Great for in-between facial maintenance. Follow with the moisture mask.

Goodbye Dead Skin

I've used this product for around 5 years. For best results, do not follow the instructions on the package. Put a thin layer on and allow to dry. Instead of rinsing, rub your face in a circular pattern. Your dry skin will rub off and create a pencil-eraser-like residue. Afterward, rinse. Once a week should do the trick.

Back
to top