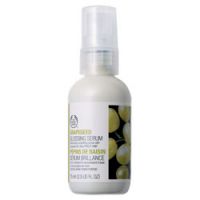 My HG hair serum

I have very long hair and I'm not talking just your average long hair but my hair is so long it passed my bottom. Also my hair is dry and wavy. I use this hair serum after I straighten my hair, I never use it on my roots only the middle til the ends of my hair. First off,you shouldn't put hair serum/oil on your roots anyway,any hair stylist will tell you that. A little goes a long way. Also the scent is amazing! I've tried different brands but I always go back to this one.

Great for dry, semi-wavy hair, especially if you live in a very humid place!

I've been using this product for about 5 years now, ever since a friend introduced it to me. I have semi-dry, semi-wavy hair and on very humid days, my hair looks like it's been baked and dried in an oven. I find that it works really well after I've used a clarifying shampoo (a once-a-week ritual) as it immediately restores shine and softness to my hair. On most days, I use it about 4x a week si...read morence I shampoo everyday and condition every other day. However, I've discovered that I should never use it when I've applied conditioner to my hair as it makes my scalp and hair oilier, due to excessive moisture. Never again! I hoard this like crazy and buy 2 bottles every 4 to 6 months or so but a bottle lasts me about 3 months! It's really money well spent!

Great for really dry hair!

I love this for after I bleach my hair. It takes away the dryness and dull color, and makes my hair softer and shiny. If your hair isn't terribly dry, you only need a little or it'll make it look and feel greasy.

Back
to top