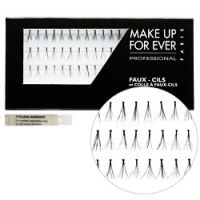 Individual False Eyelashes

These are terrible, and I think that is true of any of these, no matter who makes them. The makeup artist tried to help me with them, but they are just too difficult to deal with. You're better off with a lash building mascara using the Makeup Forever fibers. I ended up buying strip lashes.

FInally found wispy individuals!!!

Its unfortunate when people rate a great product poorly just because they don't know how to use it! After reading them, I see these women have NO EXPERIENCE AT ALL applying individual lashes. I do however, and can say these are the BEST, most natural one I have ever used on myself as well as my clients. LOVE LOVE LOVE them!!! (they were also rated very highly by other professionals). So, I would suggest getting some practice & learning how to use them correctly.

Horrible!!!

I agree w/the other review...the glue dries really fast...which could probably be a good thing IF you can get them in place in time. I could not however and was really frustrated that these didnt work out for me. I was excited to try and them and so needless to say they are going back!!! Way too difficult to apply. They seem easy enough until I started trying to put them on. I tried w/tweezer...read mores, they seem to stick to the tweezers, the glue I guess got on them. Tried even w/my fingers, again, stuck to my fingers.

Back
to top