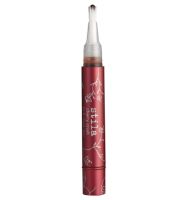 I Have a Crush on This Stain!

Lip and cheek stains intrigue me. There are few that I don't have, and Stila's is one of my favorite. I have this in both "Cherry" and "Pomegranate Crush" (it comes in a huge range of shades, most based on fruits). I am not a huge fan of the twist applicator, because the amount of product it dispenses is sometimes hard to control. But the stain itself is very lovely. Stila claims that it re...read moreacts to your own skin's pH level to create a perfect, personalized hue. Each fruit color contains some extract of the fruit itself--I like that! Also included are glycerin, antioxidants to protect and nourish skin, and Vitamins A, C, and E. The stain is a gel with buildable coverage. It dries a little quickly, so begin at the apples of your cheeks, gently and quickly blending until you've reached the amount of color you want. With lips, I prefer to use a lip brush for a precise look, although you can always use your fingers. The stain is buildable here, too. One of the things I most like about it is that the color is not too intense. You will probably want to use a balm or gloss over lips to keep them moist, and the color will last all day. I wear it to amusement parks, water parks, on vacation, everywhere--and I never have to give a second thought to a touch-up. Now that's something to love!

Stila Cherry Crush Lip and cheek stain

This is a great product. If you use it on your cheeks, it's a good idea to pat it on rather than smearing it or rubbing it in because it will disappear. It's good on the lips, too. The only con is that you have to turn the bottom to get the product in the brush and sometimes you get more than you need. I still gave it a high rating because it looks so good.

It works!

This is a VERY fast-acting stain if you want rich color fast on your lips. The gloss doesn't last very long, but the stain does. So this is a great stain to have to keep a popsicle-like color on your lips as you touch up with another gloss if you want shine. I love that this doesn't leave a disgusting taste on your lips like other lip stains can. Since this gives a very strong stain, I recommend u...read moresing this under ANY foundation, not just powder foundation (which is usually recommended to put stains on prior to powder foundation). This includes liquid foundation as well if you want more of a natural and very light color.

Back
to top