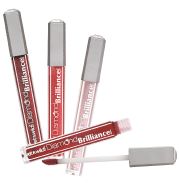 all of these!

buy every color. i did, i raked the whole set straight off a display when i walked into a drugstore here and saw them for the first time. sure, they dont last too long, but theyre so sparkly! plus they feel nice, and wipe off quick for those moments when you cant have a ton of gloss on, you kno? the names are fun too, like 'taras' tiera' or something, kawaii! ;)

Good subtle shine

This is nice cheap gloss, and not sticky! But, doesn't seem to last a terribly long time.

amazing!

This is some of the best stuff I have ever used. I am in the process of stocking up on it before they take it off the shelves. I got the lightest color at the CVS on sale for $1. Best $1 I ever spent. While in the picture it looks like the applicator is like your average lip gloss/sheen applicator, it is in fact a brush; which i think lets the gloss go on much much smoother. The product does not f...read moreeel sticky and lasts for hours. I usually apply it over a lipstick of the same color and it lasts even longer. Even after it is gone your lips still feel moisturized and look great. It also makes your lips look just the right type of shiny, they look moist but not wet and sticky and gross like a lot of the MAC and other high end lip-gloss' do. Love It!

Back
to top