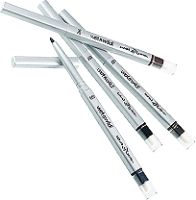 blah

these are so messy and run awful! Plus when you pull it back in sometimes it gets stuck on the side of the tube and you end up wasting product.

Decent enough

This liner is quite good considering the price. It goes on pretty smoothly, blends & smudges well but it isn't very long lasting so if you need your look to last all day and night, this one isn't for you. You get a little longer wear out of it it you dust some shadow that matches the liner over it though.

Nothing Good

I can't really say anything positive about this eyeliner because even the few dollars I paid for it is a waste. This doesn't blend well and the packaging falls apart very easily.

Back
to top