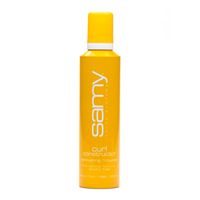 Dont soend your money

Just another mouse, guves you crunchy dry curls. Used ones and never again. Dont waste your money

SAMY

For the most part Samy makes a great product~ and its for all hair types! I'm a Fan of Big Curls~ but I have to use Argon oil to give my hair shine! Samy products helps you achieve great curls but fall short when it comes to shine and depending on your area, ya just cant find everything..

best for curly hair

I have naturally curly hair and have always had a problem with finding a mousse that would work good. I picked up this at K-mart. This stuff works great!! makes my shiny and gives great control. I live in the south so it is very humid, with this mousse I don't have to use humidity spray, the mousse controls any frizz I might get. This is a great product for those with curly hair that want control with no frizz.