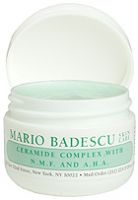 Mario Badescu Skin Care Mario Badescu Ceramide Complex with N.M.F. & A.H.A.
As low as
works

tried it once, liked bought anotherr

This was amazing.

The smell is a little weird, though. I would watch out for that.

beach spa

i really love this product. it really replenishes my skin after a day in the sun whether i happen to be working or shopping outdoors. it's my spa after a tan. highly recommended. no pain, no oil. feels clean and fresh. and i don't have to worry about dry skin and lines.