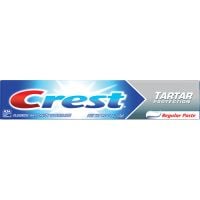 Classic

Works great. The flavor is not to strong. Makes teeth feel great. Everyone tells me I have such white teeth. Cheap price too.

Great Toothpaste!

Like the title says, this is a really great product. It makes my teeth feel instantly slicker, since it really gets all the tartar away, and it does wonders for plaque too. When I had my braces and used this, I could still tell. The flavor isn't too strong and it really makes a difference in your dental health!

Crest Tarter Protection Regular Paste

Every year I like to Summer-up the whole nine yards and part of that regiment is with a toothpaste like Crest Tarter Protection Regular Paste.

Back
to top