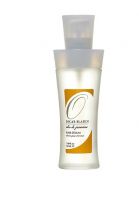 doesn't last

I really liked this product at first. It smoothed out the frizzies and smelled great, and a little went a long way, but my only complaint is that the effects really didn't last very long. My hair looked fantastic when I walked away from the mirror right after applying it, but when I looked in the mirror again about an hour later, my hair looked frizzy again. I hadn't been outside or doing anyth...read moreing that would cause my hair to get messed up. So considering that this is a bit of an expensive product, I really wouldn't recommend it

Neither here nor there...

Yeah, I don't get it. Not any better than any other serum I've tried. Makes my hair shiny. I think. And soft. I think. Just really unimpressed with this product especially reading all the rave reviews about it.

The best hair product ever.

Shine. Smoothness. Nice ends. This is the best hair product money can buy. Have used this since it came out. Have gone through five bottles. Glorious.

Back
to top