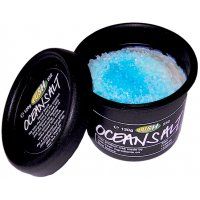 Great exfoliant for face and body

I get excited about using this every time I pop it open: it smells like a margarita. Ocean Salt contains large chunks of salt suspended in a creamy base. Adjust the amount of water you use with it to make it stronger or weaker. My boyfriend goes full strength, every day on his oily, conjested skin. I dilute it and use it as a gentle exfoliator 2 -3 times a week. My skin is very dry, so I use it to...read more remove dead skin without overdrying. It makes my skin look fabulous. Unless you want to use this salty scrub all over, you can opt for the smaller tub; a little goes a long way.

Heavy duty exfoliator

This is a bit rough for sensitive skin and a bit pricey. I found the salt was a bit sharp sometimes, but my boyfriend loved it. He prefers something with more exfoliating strength than I am used to. It does leave skin feeling well exfoliated and rinses clean. I love using it on other parts of my body too. The scent is also awesome, citrusy margh on the beach, YUM!

Amazing Scrub

I've been using Ocean Salt for a few months now. It has become my go to scrub. First, the smell is amazing. It smells like a margarita and the color is really pretty. I use Ocean Salt mostly on my face, although it is a great exfoliant for the rest of the body. It leave my skin super soft and works wonders for my blackheads. The vodka in the product is good, especially if you have acne prone skin....read more I have really dry skin, so I only use it 1-2 times per week and follow up with a moisturizer. It can be a little rough, so especially on days that my skin is more sensitive, I dilute it with a little bit of water.

Back
to top