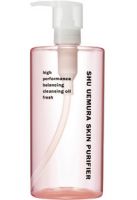 not really like it thu

i just bought a 400 or 450 ml bottle( i cant remember) and the sale girl told me that i don't need to use my normal cleanser after using this because it is one step cleansing and removing all the dirt and make up. I was so excited and tried it immediately when i reached home ( and how coincidence i was wearing make up tat day which i havent done for a while), but to be totally honest i was disappo...read moreinted. It didn't clean my face which i didn't ask for a squeaky clean but at least the clean feeling but i still felt the oiliness after 1st time, then i pumped 3, 4 pumps as direction second times, still not feeling clean, third times nothing change much as i followed exactly what they said in the bottle, then i decided to use my normal cleanser afterwards. Its so expensive and the result wasn't worth the money i paid but i will give it a benefit of doubt so i'll keep using for few more weeks see if it breaks me out or clarify my pore as it said in the bottle

Perfect!!

Like the other girls I was a little hesitant to use this Cleansing Oil since my skin is very oily not only on the T-zone. When I tried it I realized how wrong I was and that the Japanese are THE experts in cosmetology. It breaks make up and mascara in a few seconds leaving the skin soft and smooth. I don't have to rub my eyes anymore over and over again to get rid of eye make up loosing eye lashes and having red eyes afterwards!!! It is the perfect product for me and I highly recommended it!!!

Very Effective Cleanser

With my combination skin and slightly oily T-zone, the idea of using an oil on my face would have made me fear pimple city. This cleansing oil is very different from other cleansers that I have used. It leaves my skin very clean and soft. It removes all my makeup including my mascara. I apply this all over a dry face so that it can break down my makeup and any oil and dirt from the day. Then i wet...read more my fingers and massage my face. By adding water this oil turns into a milky texture. Then I just rinse off. The result is a soft, smooth very clean face. The bottle is 450ml and will last a very long time. This cleanser is gentle enough that I think any skin type can use it and effective enough to remove all traces of makeup. I highly recommend this cleanser.

Back
to top