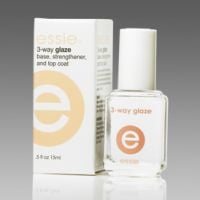 Good as a base coat, but NOT as a top coat

The smell is mild and it dries quickly, so it is a good base coat. However, I have noticed that while it may feel dry to the touch, it dents and smudges very easily as a top coat, even several hours after I apply it to my nails. So in that, I wouldn't purchase just this to use as both a base and top coat; I would definitely get a separate top coat.

Truly Magnificent!

This is the best nail product I've ever used! I have always kept my nails short for typing and texting. I tried this product 3 weeks ago! My mani-pedi laster a full 11 days before I got a minor chip on a nail. Eleven days! My mani-pedis have lasted only a week (6-7 days) before chipping. When I removed the polish, I noticed how nicely my nails had grown. For the past three weeks I've been ty...read moreping and texting and not one nail has cracked. I love this product. My sisters and girlfriends will certainly get this in their Christmas stocking! Its a "must have!"

Excellent product

You get three products in one bottle. The glaze is light, stays on for days, shines.

Back
to top