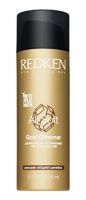 Editor's Rating & Review
"Shine treatment" brings a serum texture to mind, but this was a thicker gel-like goo infused with golden flecks. When sparingly applied from hair ends to mid-shaft, you can expect to get some separation and added texture -- which is odd because it's meant to soften and add shine to hair. (It didn't.) The smell is amazing (nutty, shea buttery), but I recommend skipping this and trying the All Soft Shampoo and Conditioner instead. They're stellar.
Reviewed by Kristen on 10/04/2007

How we review products
Redken All Soft Gold Glimmer Perfecting Shine Treatment

I have been a licensed cosmetologist since 1983, and Redken is really a blend of science and beauty. This product is one of the most innovated products Redken has introduced. It is a lot more than just a shine enhancer, it protects the hair from the elements as well. I color my hair, and this product gives me some shine without making my hair look or feel greasy. I love the shine, it makes my ...read morecolor look very rich, and as a leave in treatment, I find it conditions my hair as well as protects it. I recommend this to all of my clients who have dry hair, it makes their hair look healthy again, and the more they use it, the condition of their hair improves. If you are looking for a shine enhancer that really makes your hair look and feel healthier, try this. It is a great investment for your hair.

Not worth the price

This is basically expensive glitter. You can buy glitter for much cheaper elsewhere.

Ehh

when i pumped it, it came out gross and sticky. when i put it in my hair, it felt the same way. it didnt not give my hair a glimmer, and i cant really tell if my hair did get softer but i will not be repurchasing and i will be returning this product as soon as i can. it was awfully sticky and the only pro was the smell. it stuck your hair together.

Back
to top