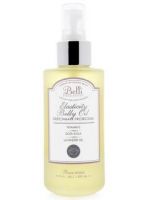 Feels great!

I doubt if any oil actually prevents stretch marks. I still got a few colorless (can only see them in certain light) stretch marks but it's better than having a lot of dark marks. Anyway this oil is yummy it feels great, smells great, and hydrates to make skin not itchy. Not sure about preventing the stretch marks but I would most likely buy again just so my husband can rub my belly with this every night.

Didn't prevent stretch marks but smells great

I used this for both my pregnancies. The smell is a very true lavender smell, not a fake pretty perfumey lavender smell, but I loved that. I got wicked stretchmarks anyway, but at least I smelled good and had a much less itchy belly. No lotion or cream will help you with stretchmarks if you're prone to getting them - you are going to get them regardless, and this oil is expensive. The bottle also ...read moredoesn't always dispense this in the cleanest way. In my opinion you could do better, but if you love natural lavender this is for you.

Makes you belli feel great!

This is my 2nd pregnancy. I had never used any type of pregnancy skin care with my last one. Boy, am I sorry I did not! This stuff really stopes the itching on my tummy, and I hope it helps me not to get too many stretch marks!

Back
to top