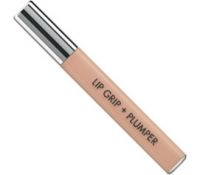 Actually works, but the color's an issue

Initially, this is like rubbing concealer onto your lips. It's a beige color that erased my lips almost completely. But I didn't let that turn me off of it: I waited 2 minutes (as directed), then applied my lipstick over it. Well...it made my peachy nude-colored lipstick completely invisible. So, I tried a darker shade of lipstick - one that I normally wouldn't wear without a light colored topcoat...read more because it's too dark for me. Suddenly, that shade was a flattering tone, and it DID last for an extraordinarily long time. The Lip Grip kept my lipstick on very evenly and kept my lips moist. I'd go so far as to say it really did make my lips look a bit more plump, because it kept the color from settling into the lines in my lips. This product requires an alteration of your usual lipstick shade, because it automatically lightens the color, but it truly does do what it says. I should add that the reviews that claim this product is "glossy" and "sticky" can't possibly be for this product (it's matte dries like foundation does). They're for Sally Hansen's Lip Conditioner + Plumper, which looks exactly the same in the package.

NOT sallys best. No great Lip Plumper

I like Sally's. I to tried this Lip plumper. It was natural and had a nice colour but thats all the good i can say about it. Definetly didn't plump anything and the gloss was kind of flimsy feeling if you will. Didn't stay on long at all. Not a great gloss overall.

Lip Grip + plumper

i love this product, it is not so much the physical change you see as the visual appearance,outline outside the lip, apply on the lips apply your liner on top and the visual effect is phenomenal, it also makes your lipstick last longer but HELP ME, i usually buy several at a time but for the last few months i have not been able to find, i want this product back!!!!

Back
to top