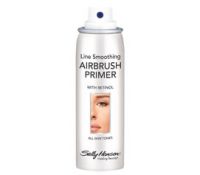 this is nice

i couldnt get the airbrush thing to work for me, so i end up spraying it on my hand and then smoothing it on, but it sets makeup well and lasts longer than makeup alone, and it does fill in pores like youd hope. nice price and good amount of product too, and the spray type dispenser at least makes sure your product stays fresh and uncontaminated, even if i couldnt spray it right on my face!

just ok

maybe it's just me, but I just don't get primers. I don't seem to notice any benefits to using them and they seem to change the consistency of my foundation. It didn't seem to go on as smooth as it usually does. I wouldn't buy again.

Not impressed

First of all, it says right on the directions "spray directly into hand and apply to face"... so those of you who say that spraying it across your face didn't work, it's not supposed to! Read the directions! Anyways I was not impressed with this primer. It has little flecks of shimmer in it, it smells weird, it is only 1 oz, I don't feel like it moisturized my skin at all, and I noticed absolutely no difference in the feel or look of my skin.

Back
to top