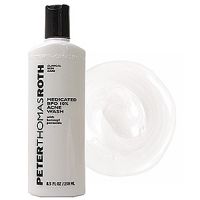 Very strong product

This cleanser does clear up acne on your face, but if you have back acne, it doesn't really work. Also, this cleanser is a very strong product so don't squeeze out a lot b/c after using it for 2 weeks, my skin started peeling so just be aware of the amount you use!

Pretty Good

Overall, I would have to rate this product as pretty good. I used this product before I recommitted to Proactiv. I didn't use consistently and when I did use it, I used it in conjunction with regular facials and other PTR products that I bought from my esthetician. But overall, my skin was clear. I still prefer the smoothness of Proactiv products to PTR.

Exclusively from the editors at Total Beauty

Get the Buying Guide to see these top-rated products!

Get it now »

Clear Skin

Actually works.

Back
to top