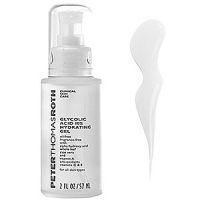 Wonderful

Love this. i use this daily, I use this in the morning and the un-wrinkle peel pads at night. I have very oily skin and this has caused me no problems it seems like my make up goes on smoother and since using this combo i do not use as much concealer and foundation as they spread easier and keep oil a little more in check. No matter what i do i am still an oil slick by 1 pm everyday, this has not added to but has actually helped a little. I have no skin sensitivity at all to this product.

Powerful, high glycolic content

First off, this is a great product. It does have a high content of glycolic acid in it, so expect to feel a tingle/burn sensation upon application. Beware if you use it with other products (cleanser, moisturizer) that may also have exfoliating acids in them. It can interact and increase the intensity of this treatment. My skin is sensitive so I can only use this every once in a while. I prefer to ...read moreuse a cleanser with an AHA in it more frequently, so would not use this everyday. It can burn your skin if you over treat with too many exfoliators. I'm sure it is much easier for oily skin types to use more frequently. Be sure to use an SPF if you use this! It can sensitize your skin.

Face Changer

This stuff is INCREDIBLE! It burns a lot on initial applications, however if you follow the guidelines to build up the tolerance of your skin, you will not regret the first few days of pain!! It is absolutely AMAZING stuff, that smooths bumps and eliminates new ones! Holy grail serum!! Worth every penny! Doesn't over dry like other similar products.

Back
to top