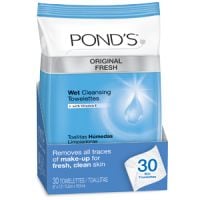 Do not like

I am usually a big fan of Pond's products. These towelettes were not a product that I could get behind, though. I did not think that there were enough of them in the package to justify the price, to start, Second, I had a hard time getting the individual towels out of the pack. Third, The pack would not close back up in a way that would keep the rest of the towels moist, so it became clear that i...read moret was a waste of money overall. The towels themselves were sticky and had way too much perfume. They did very little in the way of removing makeup-- they mostly just smeared it around. My face did not feel clean. I would not use these again.

Not good at all.

I usually use Clean & Clear's wipes, but they're not widely available, so I decided to pick up these Ponds wipes. I figured that because Ponds is widely known and has been around for awhile, these would be fine. I didn't like them at all. I needed two wipes to REALLY get off all of my makeup (foundation and mascara especially). I felt like I really had to rub to get the makeup off too. These are r...read moreeally heavily perfumed, which I didn't like either. I like that the plastic box keeps the wipes from drying out, but that also means it takes up more room. Maybe they should just get a plastic flap that snaps open and closed? The price is pretty average. I definitely won't be repurchasing these.

Scent didn't bother me that much....

Compared to everyone else who hated that these were heavily perfumed, I found the scent on this bearable. It has a fresh soapy smell that doesn't make me nauseous. I can get past the scent but what I can't really get past is how much this stings my eyes when I try to take off my eye makeup. These wipes are also not very good at removing makeup. I like that these wipes do not leave behind an oily o...read morer some kind of residue at all and they stay fairly moist and doesn't dry out but if it stings my eyes and doesn't do what it's supposed to do, I'm not going to repurchase.

Back
to top