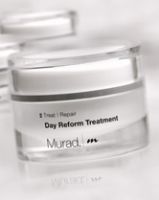 Murad Day Reform Treatment
As low as
Really works

I was put off by the texture at first, and quickly learned that a little goes a long way, and you need to moisturize afterwards. That being said, the product makes your skin look wonderful and gives the appearance of more youthful skin. The cost is worth it since you only use a little and it lasts a long time. This is one of those investments for your skin for sure.

friends of mine highly recommend this

I have not used it, however, many of friends have started to use this product and rave about it. I've noticed a change in the texture of their skin--it looks so smooth, more vibrant/radiant and a reduction in fine lines. Just from observing their skin change, I'm sold on this product!

Back
to top