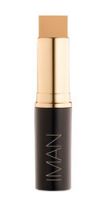 awesome

i know this brand is mostly for darker complexion but let me tell you, i am a ghost! im paler than casper in the winter but since ive been tanning, ive become so much darker and the lightest shade of iman stick foundation matches almost perfect. its still a tiny bit to dark but ill get there. anyway on the product lol. this stick is awesome. im gonna make it summer hg foundation. ive tried so many...read more foundations. dior, chanel, smashbox, laura mercier to name a few. they were nice but i felt like i smothered my face in paint. so i bought this and i love it! its not dry but its not creamy either. so its not gonna slide around your face. theres no sparkle, no shimmer and it dries matte. i use this as a concealer anywhere i need color correction. i havent used it all over because i dont like looking made up. but the best part is... this covers acne scars like no other. i swear to god. i have mild acne scarring along my jaw and one swipe. just one! covers them completely/ i couldnt believe it. better than any concealer ever that ive tried. now i dont bother with concealer. i just dust some clinique sheer matte to help blend it in. its also only 16 dollars compared to the bobbi brown stick which is like 40$. the only cons are fair people cant use this unless the wanted to contour with it. and it becomes alittle bit oily as the day goes by but honestly i dont know if its the powder or this.

Fabulous

Love using this stick foundation. Goes on much easy than using liquid. Goes on smooth without being messy. The color will easily blend in with your skin tone and last most of the day. Definitely worth the money and worth a try.

beautiful and matte

I love matte foundations. especially for everyday. I bought the lightest shade and its good. As usual its is incredibly hard to find a foundation that matches. I usually have to mix two colors but this is pretty good. love the packagoing and the fact that the color undertones are designed for women of color.