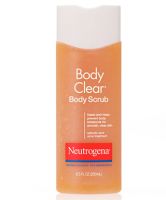 Editor's Rating & Review
Like the name suggests, this salicylic-acid-spiked scrub helps clear up breakouts on your chest and back when used a few times a week. However, if you're looking for a luxurious scrub that will turn your shower into a spa experience, this ain't it. It doesn't lather, and the medicinal-smelling, acne-fighting ingredients can be drying. And, as if body breakouts aren't stressful enough, it's hard to get to this orange stuff to come out of the squeeze bottle.
Reviewed by the Total Beauty editorial team on 09/25/2007

How we review products
Love!

I've tried this before for the breakouts on my back and chest (usually just in the summer or from working out) and I don't recall it ever working very well. I do recall that it was a very abrasive scrub and had a strong medicinal smell. I tried in during college and have never bothered with it again. Update: I decided to give this another try recently. I realized that it's great that it's medicate...read mored but if you just scrub then rinse, you're rinsing all the medication down the drain! So I have started using this scrub then leaving it on for 2 to 5 minutes while I shave my legs, then rinsing. It works much better this way!! I have definitely had less post-run breakouts since I started using this again.

no way

this stuff doesn't work

smelly

smells very medicated and it is something that I used with my body wash. I tried it when my mom bought it. its a good exfoliator and it doesnt remove bumps. it removed some acne on my face.

Back
to top