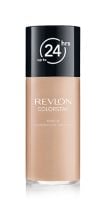 Hated it.

Far too thick for my taste and it went on very cakey, regardless of how well I tried to blend. The biggest thing I hated about it was the lack of a pump, it made getting the product out an absolute pain. I probably wasted more product trying to get it out of the bottle, rather than putting it on my face. I didn't even finish half way through the bottle because I was not impressed with this foundation.

No bueno (at least not for me)! :( Very cakey and looks like a mask!

Disliked this foundation from the moment I applied it onto my face!  I was so excited to try this foundation because of all the hype and I didn't really need another foundation, but my curiosity won and I caved in. Definitely wrong move! Honestly can't believe that so many people rave about this foundation. I have normal to oily skin, which I believe is the skin type this product is intend...read moreed for. Purchase this in the color "Buff" which was actually a pretty good color match for me. I have yellow undertones and found that this color was not too pink or too yellow, but more on a neutral side, which is what I prefer. So I applied it on my face and immediately regretted trying it. And I have to mention that I never go overboard and apply the smallest amount of foundation I can get away with. This, however, immediately felt like a mask on my face. It emphasized all the dry patches on my face ( I have a bit of dryness around my nose sometimes, especially in the winter), caked up in all my pores which made them look twice the size that they actually are, and made me look about 5 years older. I just don't know… Maybe there is a special way to apply it that I'm not aware of, but at this point, after trying it twice – I don't want to be bothered to find out. Basically, I tried once with a brush and once with a sponge (not a beauty blender). So yes, I haven't tried this with the beauty blender, but I really doubt that the magic is in the beauty blender, so I will not be using this again. Definitely wouldn't recommend this product to anyone who is looking for a more or less natural looking product.

Don't get all the hype....

I have really sensitive eyes so when I apply makeup, my nose would run like crazy. With this foundation, I love the staying power since it doesn't transfer to my tissue when I blow my nose. I agree that it is highly comparable to the Makeup Forever HD foundation since I found that foundation (besides this one) does not transfer when I blow my nose. I have oily skin and was hoping for more of a mat...read morete finish. I would say this has more of a semi-dewy finish. A lot of reviewers on Youtube say that with this foundation, you don't need a setting powder but I disagree. With only this product on, my skin started to get greasy within 2 hours so I would need to use a setting powder unlike my Covergirl 3 in 1 foundation where the oil-control properties are longer-lasting. I also disagree that this foundation is buildable to a heavy coverage. It has only a medium coverage for me. I have acne scars I wanted to cover up and after putting on 3 thin layers of this, I can still see my acne scars from underneath. This foundation also oxidizes like crazy and turns blotchy and orange after 7 hours of wearing this so make sure to get one shade lighter than your skin tone. I don't like the packaging on this because of no pump obviously. It's kind of hard to get the product out. It's not too thick or too liquidy but a little bit too much of a hassle to get the product out because it's a little more on the thicker consistency. I can imagine this product to be good during the summer like what most people say because it's transfer-proof but always be sure to keep setting powder handy to control the shine. I also don't like the perfumey scent this has. It reminds me a lot of those floral-y scents older women wear.