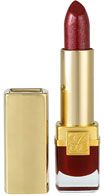 Editor's Rating & Review
These stubby sticks go on thick enough to leave tint on your lips after depositing color on your Diet Coke can -- upholding the very definition of "long-lasting." Unlike drying semi-permanent lipsticks of the past, castor oil and nourishing vitamins give this one a moist finish. Mostly muted hues like Rose Tea or Hazelnut Creme might not appeal to women seeking bolder color, and the strong fig scent could turn off anyone sensitive to fragrance.
Reviewed by Kristen on 09/26/2007

How we review products
Lovely Lipstick!

Estée Lauder was probably the first "grown-up" lipstick I used. I still enjoy it. I have it in more shades than I can count, but my favorites are "Pinkberry," "Sugar Honey," and "Bois de Rose." The hues are extraordinary and rich. Apricot Kernel, shea butter, and murumuru butter leave lips soft and pliable. Coverage is buildable and the wear is better than I had first anticipated (I am so use...read mored to stains). As Estée Lauder's Creative Makeup Director, Tom Pecheux says, "Lipstick makes a woman sensual, powerful, and kissable." I agree!

very nice

As soon as you use a lipstick from this brand you will see what a difference higher quality makes. The colors are lovely, rich and the wear is creamy.

Bronze Goddess; Solar Crush

I recently went to my local Bon-Ton and stumbled upon the Bronze Goddess Collection, and I had to try it out. I picked up the new shade of Pure Color lipstick in Solar Crush, it is a bright bold pink-coral shade that is divine! I love it so much, and when I wear it, it's the highlight of my look! The formula is smooth and creamy, and the color is bright and pigmented and doesn't fade after hour...read mores of wear. I did find some transferred to my teeth though, but only when first applied and not again after that (happened every time but always within the first five minutes so it's easily fixable). However I did find that the lipstick really shows off creases in my lips if I only use one application, so I have to apply, blot, apply and blot again to get the color to set into creases. I have to say I love the quality and don't mind at all paying the higher price for something this nice. I own numerous other lipsticks and this is by far in my top ten favorites and I will definitely purchase more colors.

Back
to top