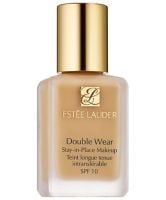 Estee Lauder

It just costs too much money. The high points of this foundation are that it has a very silky feel and goes on the skin with a beautiful and smooth texture. Another one of the pros is that the shade palette is incredible. There really is a skin tone match that will suit everyone. The downsides to this Estee Lauder foundation are that it is an extremely heavy product. It feels like a mask on your f...read moreace. It is also very difficult to remove-- you aren't getting this foundation off with a regular face wash. It also will make you break out-- it is extremely oily and will clog your pores like you would not believe. Lastly, the price is a huge turnoff. It is so so so so much more expensive than any other foundation on the market, especially for the mixed results that you receive. You pay for perfection, but that is definitely not what you get from this product. It is looked at as the highest quality and the most chic out of the department store brands, but I personally do not feel that it lives up to the hype. I could not in good conscience recommend this to anyone, because I just do not feel that it delivers for the amount you will pay for it.

Are we sure this is discontinued???

I just recently bought a bottle of this from some cosmetic store from an outlet mall so the price is cheaper because I couldn't talk myself into buying a bottle from Sephora which was about $15 more than what I paid for. I noticed that the bottle I got wasn't labeled with SPF 10 in it so I think they might have changed the formulation or something. They no longer sell this at Sephora stores. I cal...read moreled and asked everywhere in the Twin Cities. You will only get this online or do what I did and get it from a cheaper alternative if you can because this foundation is wonderful especially for super oily skin like me that always makes my foundation rub off. This is as close as it can get to being transfer-proof. It gives a great matte finish without looking flat on my skin. This works better with a damp sponge than a brush I've noticed. Every time I apply this with a brush, it looks really streaky and cakey. This also dries really fast so be sure to blend fast. I've always wanted to try this because so many people on YouTube rave about this for its staying power and they were right! I love this stuff. It has amazing coverage and it stayed put the entire day and at the end of the day, my face looked exactly like how I applied it in the beginning. This also photographs beautifully! My skin looks flawless and airbrushed every single time. I'm always amazed at how my skin looks when I take a selfie. On the down side, I don't like that this foundation makes me look like I have 10 pounds of makeup on. It feels really light on the face but because it is very heavy in coverage with one coat, I can sometimes look like I'm trying too hard and people can tell that I have foundation on. I would just like this foundation to look a little bit more natural but overall I do love it since I blow my nose a lot and this hardly transfers onto my tissue.

Stays on Great

Gives great coverage. Perfect matching color. Makes my face look flawless. Not heavy like I thought, it would be. Doesn't come off on my phone. Great price. I love this this foundation. I had tons of people saying your skins looks so great what are you using.