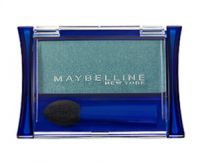 So-so

It's not hi-pigmented as I would like and it flakes off easily. It's good for the price but the thing I don't like is that it doesn't provide as rich of color as I prefer.

Very average...

I have to say that I purchased the single eye shadow because I love the "Eyestudio" quads so much, and I was hoping that the quality would be the same. Completely off! The texture is very different, the pigmentation is very low; you need to apply a very heavy coat of this to see the colour you thought you were purchasing. I have this in "Chic Naturals" and I really tried to make it work with me....read more I used it with a primer (tried different brands of primers as well), without a primer, on top of a moisturiser and nothing worked for me. It's just too powdery and dry and non-pigmented. Can't say anything good about my experience with this eye shadow. If I were to recommend this to someone, then I would recommend it to a pre-teen (if it's even okay to be wearing makeup at that age) or to someone who wants just a hint of colour on their lid, so that it's almost unnoticeable. But even for those purposes you could find a better product and apply a very small quantity of it, so my best advice - don't bother with it...

Not a fan...

I like the color when it goes on but I feel like I look like a clown after! I have to apply so much just to get any color and by the time I do it all falls on my cheeks or gets stuck in the lashes, it gets every where and with the dark midnight shade I bought it wasn't a good thing. It's not worth the price I feel like I got this out of one of the cheap-o make up kits that Walmart sells at Chris...read moretmas. Spend the extra few bucks on something better ladies this stuff falls short on too many levels. I don't even want to give it a star.

Back
to top