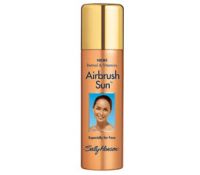 Not my favorite

I could not find this product anywhere so I ended up ordering it on amazon because of the good reviews. Unfortunately i am not very satisfied. It was a little weird spraying it on my face. I've used it 3 days in a row so far and have not really seen a difference. I won't be buying this again.

the best!

Im absolutely in love with this product! the best self tanner ive ever used. good price too. first, i was scared ill get acnes all over my face, but no worries! i have really really sensitive skin n i didnt break out or anything! perfect! not even orangy! i dont even need to use bronzer anymore. so natural. veryvery worth buying this product.

AWESOME COLOR FOR BLONDES

I have tried every product out there- If your a blonde- THIS IS THE PERFECT color 4 you !!! Natural brown color lasts for days ..... PULL ALL HAIR BACK !!! WILL STAIN HAIR around face....I apply at night after washing and toning....I use/apply a deep conditioning conditioner and apply at hair line and smooth the conditioner back to ends of hair - I then use a headband to keep it all back and off...read more my face.....Do your daily cleansing routine- let face dry. Apply the spray !!!! ( I set the tan faster by using a quick sweep of my blow dryer) Awake with a pretty natural brown color that IS PERFECT FOR ALL BLONDES !!! WILL NOT CLOG OR COLOR PORES- NON DRYING !!!! AWAKE WITH COLOR AND SHINY HAIR !!!! Long lasting !!!!

Back
to top